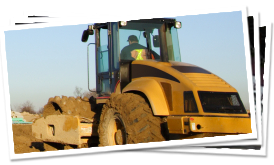 Name
Phone Number
Email Address
Welcome to Raymond Excavating Company
Raymond Excavating is a privately owned corporation led by Dave Burgess, President and Brandon Burgess, Vice President.  Originally founded by Raymond Burgess, Raymond Excavating has been serving St. Clair County and surrounding areas in earthwork and underground utility business since 1954.
Raymond Excavating has been a Michigan Department of Transportation prequalified contractor for over 35 years.
Some of our major contracts have been with the State of Michigan, St. Clair County, Macomb Township, City of Port Huron, City of Marysville, Marysville Ethanol LLC, DCP Midstream, Dupont and several other municipalities. We have also worked with the U.S. Corps of Engineers, private developers and many large industrial firms.
Raymond Excavating can provide a wide range of various sizes and models of track excavators, dozers, rubber tired loaders, tractor backhoes, lifting cranes and tractor/trailers for your project.
The end result is we can put together a trained, competent, skilled group of employees with well-maintained equipment to respond to your needs. Our employees are members of the Operating Engineers and Laborers Unions.
Please contact us with any questions or if you require any additional information.


Crane Rental
Storm & Sanitary Sewer
Water Main & Sewer Separation
Sewer Separation
Concrete Piling & Structures
Industrial Civil & Plant Expansion